Many young French voters are approaching the presidential runoff with a shrug and vow to 'vote blank'
Apr 23, 2022 08:18 am UTC| Politics
The race for the presidential post in France began with 12 candidates. It will conclude on April 24 with the same choice that confronted voters five years earlier: the centrist Emmanuel Macron or the far-right Marine Le...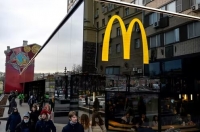 The West thinks that Russians, suffering from sanctions, will end up abandoning Putin – but history indicates they won't
Mar 21, 2022 15:16 pm UTC| Economy
While Russia is leading a merciless war in Ukraine that has resulted in millions of Ukrainian refugees fleeing to neighboring countries, Western brands are on the exodus from Russia. The closure of over 800 McDonalds...